Case report | Volume 4, Article 43, 28 Sep 2020 |
10.11604/pamj-cm.2020.4.43.25713
Acute generalised exanthematous pustulosis caused by an anti-malarial drug: a case report
Rudy Arnaud Nana, Dahlia Noëlle Tounouga, Nelson Sonsta Njedock, Gael Eric Ananfack, Serge Medoua, Emmanuel Armand Kouotou
Corresponding author: Emmanuel Armand Kouotou, Department of Internal Medicine and Specialties, Faculty of Medicine and Biomedical Sciences, University of Yaounde I, Yaounde, Cameroon

Received: 23 Aug 2020 - Accepted: 16 Sep 2020 - Published: 28 Sep 2020
Domain: Internal medicine
Keywords: Drug reaction, acute generalised exanthematous pustulosis (AGEP), anti-malarial drug, arterolane-piperaquine
©Rudy Arnaud Nana et al. PAMJ - Clinical Medicine (ISSN: 2707-2797). This is an Open Access article distributed under the terms of the Creative Commons Attribution International 4.0 License (https://creativecommons.org/licenses/by/4.0/), which permits unrestricted use, distribution, and reproduction in any medium, provided the original work is properly cited.
Cite this article: Rudy Arnaud Nana et al. Acute generalised exanthematous pustulosis caused by an anti-malarial drug: a case report. PAMJ - Clinical Medicine. 2020;4:43. [doi: 10.11604/pamj-cm.2020.4.43.25713]
Available online at: https://www.clinical-medicine.panafrican-med-journal.com/content/article/4/43/full
Case report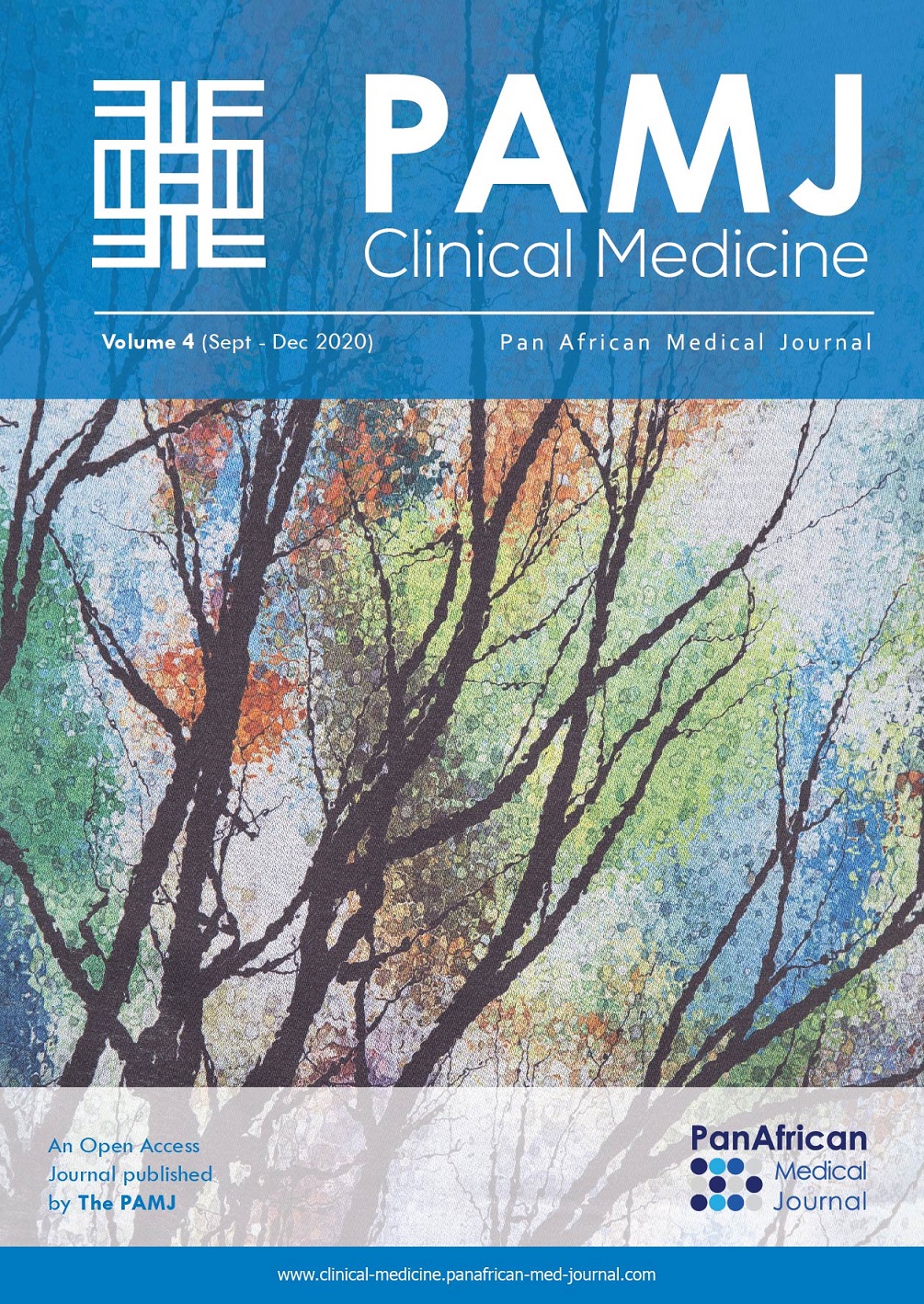 Acute generalised exanthematous pustulosis caused by an anti-malarial drug: a case report
Acute generalised exanthematous pustulosis caused by an anti-malarial drug: a case report
Rudy Arnaud Nana1,2, Dahlia Noëlle Tounouga1,2, Nelson Sonsta Njedock1,2, Gael Eric Ananfack1,2, Serge Medoua1,2, Emmanuel Armand Kouotou1,2,&
1Department of Internal Medicine and Specialties, Faculty of Medicine and Biomedical Sciences, University of Yaounde I, Yaounde, Cameroon, 2Yaounde University Teaching Hospital, Yaounde, Cameroon
&Corresponding author
Emmanuel Armand Kouotou, Department of Internal Medicine and Specialties, Faculty of Medicine and Biomedical Sciences, University of Yaounde I, Yaounde, Cameroon
Acute generalised exanthematous pustulosis (AGEP) is a severe cutaneous reaction that usually occurs after drug intake. Antimalarials like hydroxychloroquine have long been incriminated in the literature. This is a case of AGEP occurring after the consumption of an antimalarial other than hydroxychloroquine; labeled as Synriam® (piperaquine and arterolane). A 35-year-old Cameroonian woman presented to our outpatient unit for the sudden onset of generalized maculopapular and pustulous pruritic skin eruption, associated with fever (39.5°C). The eruption had started 4 days after the consumption of arterolane and piperaquine drug combination. The patient been living with Takayasu disease and chronic renal failure for 5 years. She had neutrophilia at 10 000/ul, a hypereosinophilia at 1500/ul, and raised markers of inflammation with and transaminitis. This clinical picture was suggestive of AGEP. The treatment consisted of applying sterile Vaseline and betamethasone 0.05% cream with an antiseptic bath every day. AGEP is a rare but severe cutaneous drug reaction with a female preponderance. The time from drug intake to onset of symptoms and varies from hours to days. The diagnosis is established when a set of clinical, laboratory and histological arguments are available. The management is relatively simple and prevention consists of withdrawing the causal agent. AGEP is a severe cutaneous reaction that can occur after drug intake. Cases of AGEP secondary to antimalarial drug intake other than hydroxychloroquine have not yet been described.
Acute generalised exanthematous pustulosis is a severe cutaneous adverse drug reaction characterized by the rapid onset of erythematous macules, pustules, and fever. Though the disease was described earlier on in the literature, the term "Acute generalised exanthematous pustulosis" (AGEP) was first coined out by Beylot et al. 1980 [1]. It frequently results from systemic drugs and rarely from topical medications [2,3]. Medications most commonly incriminated in the literature have been: antibiotics (penicillin, pristinamycin, sulfamides, and quinolones), antifungal agents (terbinafine), antimalarials (hydroxychloroquine) and allopurinol [2,4]. AGEP is quite rare with an incidence of 1 to 5 cases per million persons per year [5]. We report here a case of AGEP secondary to the intake of an oral antimalarial (other than hydroxychloroquine), Synriam® - a drug combination containing Arterolane and Piperaquine.
A 35-year-old female Cameroonian came to the outpatient consultation unit for a sudden onset of a generalised pruritic cutaneous rash, fever and rigors. The lesions had begun on her face and neck and had progressed rapidly to involve her torso, arms and thighs within 2 days. She had completed a 3-day antimalarial drug regiment 1 day before the onset of symptoms. In other words, the cutaneous eruptions started 4 days after the introduction of the antimalarial drug combining arterolane and piperaquine. This treatment had never been taken by the patient in the past. She had a history of Takayasu arteritis with chronic kidney disease diagnosed 5-years earlier and was on remission. On clinical examination, there was diffused erythema that translated an erythroderma with multiple pustules (Figure 1, Figure 2); a systemic inflammatory response syndrome associating fever (39.5°c), tachypnoea (respiratory rate at 25 breaths/minutes), and tachycardia (Heart rate at 110 beats/minutes). She had bilateral mobile, smooth, rubbery and non-tender cervical lymph node enlargements. With this suggestive clinical picture, a diagnosis of acute generalized exanthematous pustulosis was hypothesised and the patient was hospitalised without excluding the possibility of pustular psoriasis (Figure 1).
Laboratory investigations showed leukocytosis with left shift (neutrophils count at 10 000/ul), eosinophilia (1500/ul), a moderate microcytic hypochromic anemia with haemoglobin at 8 g/dl; raised markers of inflammation with a c-reactive protein at 198 mg/l and an erythrocyte sedimentation rate at 100 mm/s in the first hour. Blood cultures were sterile, hepatic and kidney results were respectively Aspartate aminotransferase of 80UI (2 times the upper limit of the normal), Alanine aminotransferase of 73 IU (2 times the upper limit of the normal); Blood Urea Nitrogen at 0.56 mg/l and serum creatinine at 17 mg/l (GFR of 44 ml/min/1.73 m2). A skin biopsy was not performed due to financial limitations. Never the less, these work-ups further argued for an AGEP. The treatment consisted of cutaneous ointment with sterile Vaseline in the morning, betamethasone 0.05 % pomade in the evening, oral antihistamine and an antiseptic bath once a day. All other medications were stopped. By the sixth day of hospital stay, there was a franc improvement of the clinical symptoms without sequelae and a normalization of the hematologic and hepatic lab signs (Figure 2). The patient was discharged and the interest of doing allergological patch tests during her later hospital visits was discussed. All antimalarial medications containing arterolane and piperaquine were forbidden, given that it was strongly suspected to be the aetiology of AGEP in this patient.
AGEP is a rare and severe cutaneous drug reaction with a female preponderance [6]. It is characterized by a sudden onset with a rapidly extensive evolution. The interval between the first symptom and the drug intake is usually short, going from hours to weeks [3,7]. It is usually drug-related (mostly antibiotics), but could also be secondary to viral or bacterial infections [4,8,9]. Many cases of AGEP described are linked to the intake of antimalarials, particularly hydroxychloroquine [10,11]. To the best of our knowledge, no case of AGEP linked to another antimalarial, like the artemisinin derivatives (arterolane-piperaquine), has been described. Arterolane-piperaquine combination is an antimalarial widely available in Cameroonian drugstores and pharmacies. It is important to know that it can also induce AGEP. The diagnosis of AGEP induced by arterolane-piperaquine could be made with an intrinsic imputability C3 + S3 → I4 with Begaud´s criteria, 1989 [1]. The extrinsic imputability of arterolane piperaquine is B1. Following the EUROSCAR study, a system of validation score can be used to evaluate AGEP. This allows us to classify the patient either as no AGEP, possible AGEP, probable AGEP or definite AGEP. Considering these criteria, our patient had a score of 8, which categorised her as definite AGEP [4]. Furthermore, the patient had 4 out of 5 criteria defining AGEP as proposed by Roujeau et al. in 1991 [7]; the histological examination was not done due to inadequate resources. These criteria were: clinical: numerous millimetric non-follicular pustules on erythematous oedema, a temperature greater than 38.5°C; evolution: brutal onset and resolution in less than 15 days; biological: a neutrophilia with a count > 7000/uL
The diagnosis of AGEP is based on clinical, laboratory and histologic findings. On clinical grounds, we notably have numerous small (<1cm) non-follicular pustules, that lie on oedemateous erythema, and a fever with a temperature > 38.5°C [4,5,12,13]. The pustules are said to be sterile. On laboratory workups, an elevation of the neutrophil count is found in more than 90% of cases, and moderate eosinophilia in 30% of cases. The renal function is usually slightly diminished with creatinine clearance less than 60ml/min; liver enzymes (ASAT/ALAT) are usually normal [5,12,13]. The principal differential diagnosis usually include Steven Johnson´s syndrome and Lyell syndrome, Generalized pustulous psoriasis of Von Zumbush type, drug hypersensitivity syndrome, and Bullous generalised erythema pigmentosum [12]. Above all, it is important to note that the certainty in the diagnosis of AGEP requires a histological analysis that shows spongiform subcorneal and/or intraepithelial pustules, an oedematous papillary dermis and perivascular infiltrate with neutrophils and some eosinophils. Epicutaneous tests have high specificity but low sensitivity and can be used when the drug in caution is not known to be classically responsible for drug reactions, as in our case, or when many drugs are suspected [14]. The treatment of AGEP always entails the withdrawal of the suspected drug and on managing and controlling symptoms. During the pustulous phase, the application of disinfecting solutions and topical steroids with wet bandages, are sufficient. During the desquamative phase, the usage of rehydrating lotions is prefferred [7,12, 13]. The evolution is usually favorable in 1 or 2 weeks after withdrawal of the drug. The overall prognosis is good, as it was the case with our patient; a high fever or superinfection of the cutaneous lesions can lead to a poor prognostic in aged patients with a pre-existing altered general status [12].
AGEP is a severe cutaneous drug reaction that has a female preponderance. Its diagnosis should be suspected with reliable clinical and laboratory findings further supported by histology. Its distinction from septicemia is important, as the management is relatively simple and no antibiotics are needed. Identification and withdrawal of the causal agent is the cornerstone of its management.
The authors declare having no competing interests.
Nana Rudy Arnaud: conception drafting and revision, Njedock Nelson: case discussion, Dahlia Tounouga: case writing, Gael Eric Ananfack: drafting and revision, Serges Medoua: drafting and revision, Emmanuel Armand Kouotou: conception, drafting and revision. All the authors have read and agreed to the final manuscript.
Figure 1: (A, B, C, D) papulopustular and desquamative eruption involving the face and the trunk

Figure 2: (A, B) net clinical improvement six days after treatment initiation















Search
Volume 12 (May - Aug 2023)
This article authors
On Pubmed
On Google Scholar
Citation [Download]
Navigate this article
Similar articles in
Key words
Article metrics
---
Recently from the PAMJ-CM