Images in clinical medicine | Volume 5, Article 58, 12 Feb 2021 |
10.11604/pamj-cm.2021.5.58.27709
Hystérocèle géante, cause d´inconfort mictionnel associée à un prolapsus rectal chez une patiente âgée
Ousmane Sow, Abdoul Aziz Diouf
Corresponding author: Ousmane Sow, Service d´Urologie-Andrologie, Hôpital Aristide Le Dantec, Dakar, Sénégal

Received: 05 Jan 2021 - Accepted: 18 Jan 2021 - Published: 12 Feb 2021
Domain: Gynecology,Urology
Keywords: Hystérocèle, patiente âgée, colpocèle, prolapsus rectal
©Ousmane Sow et al. PAMJ - Clinical Medicine (ISSN: 2707-2797). This is an Open Access article distributed under the terms of the Creative Commons Attribution International 4.0 License (https://creativecommons.org/licenses/by/4.0/), which permits unrestricted use, distribution, and reproduction in any medium, provided the original work is properly cited.
Cite this article: Ousmane Sow et al. Hystérocèle géante, cause d´inconfort mictionnel associée à un prolapsus rectal chez une patiente âgée. PAMJ - Clinical Medicine. 2021;5:58. [doi: 10.11604/pamj-cm.2021.5.58.27709]
Available online at: https://www.clinical-medicine.panafrican-med-journal.com/content/article/5/58/full
Images in clinical medicine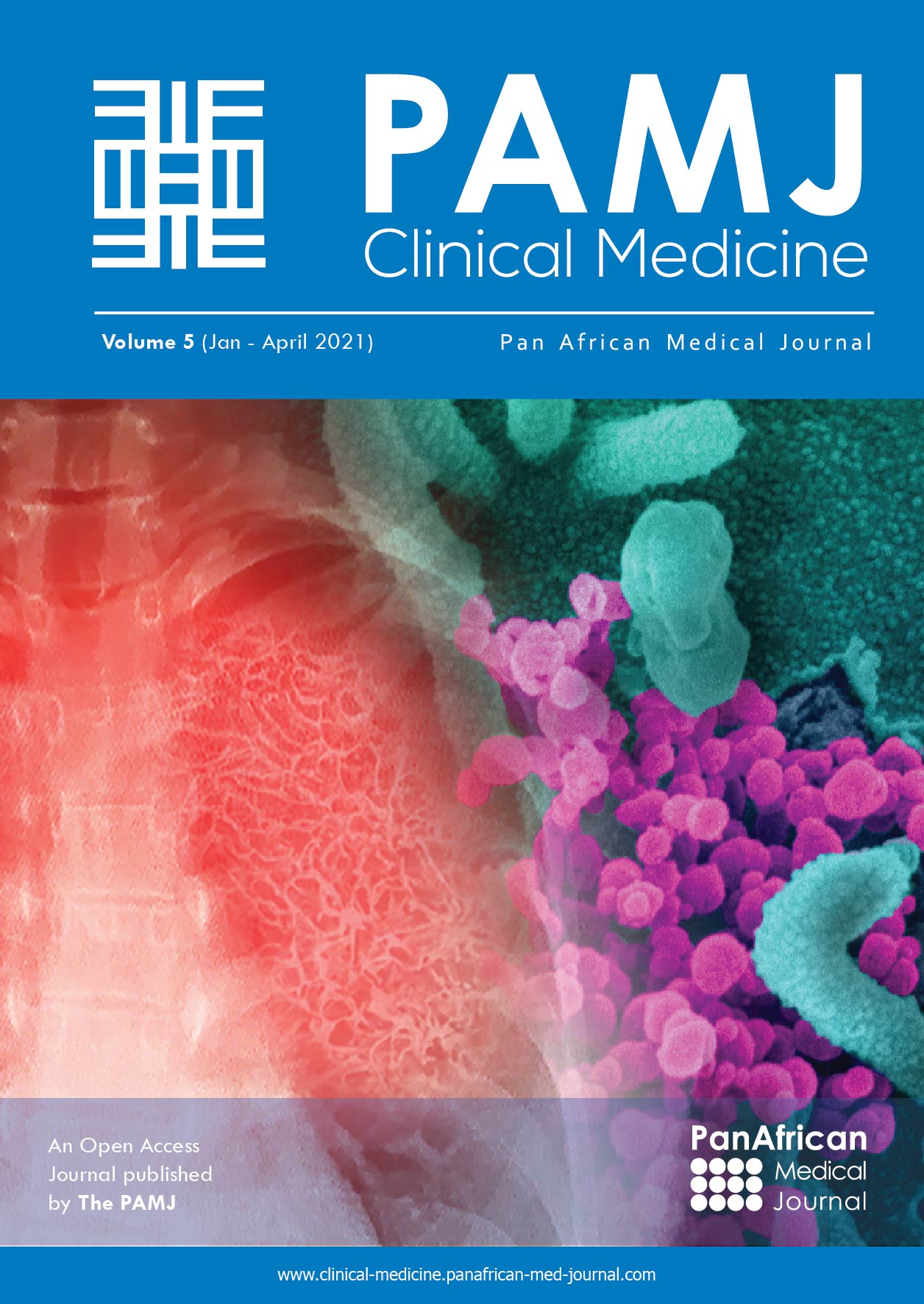 Hystérocèle géante, cause d´inconfort mictionnel associée à un prolapsus rectal chez une patiente âgée
Hystérocèle géante, cause d´inconfort mictionnel associée à un prolapsus rectal chez une patiente âgée
Giant hysterocele causing voiding dysfunction associated with rectal prolapse in an elderly female patient
1Service d´Urologie-Andrologie, Hôpital Aristide Le Dantec, Dakar, Sénégal, 2Service de Gynécologie-Obstétrique, Centre Hospitalier National de Pikine, Dakar, Sénégal
&Auteur correspondant
Ousmane Sow, Service d´Urologie-Andrologie, Hôpital Aristide Le Dantec, Dakar, Sénégal
Genitourinary prolapse is common in women aged over 50 years. It is a condition in which one or more of the pelvic organs comes down into the vagina. This is caused by the relaxation of the musculoskeletal components of the pelvic floor. Main contributing factors are age, menopause, difficult vaginal deliveries, vigorous-intensity physical activity, hereditary factors. Prolapse is defined by herniation of the vaginal wall (colpocele). There are three degrees of prolapse: anterior compartment prolapse, middle compartment prolapse and posterior compartment prolapse. Middle compartment prolapse with colpocele may include the uterus (hysterocele). Hysterocele is a condition in which the uterus comes down into the vaginal cavity with vaginal vault protrusion through the vulvar orifice. Genital prolapses are different from rectal prolapse which exteriorizes through the anus. We here report the case of a 65-year-old female patient with no particular past medical history and with seven previous vaginal deliveries presenting with dysuria, pollakiuria, recurrent urinary infections with a feeling of pelvic heaviness and chronic exteriorization of intravaginal ball. Clinical examination showed huge stage IV hysterocele (Baden Walker classification), with complete exteriorization of the cervix associated with rectal prolapse, without urinary incontinence or cystocele. Colpocleisis associated with anal encirclement was performed. The postoperative course was uneventful. After a 6-month follow-up period functional outcome was good with disappearance of urinary disorders and no recurrences.
---
Key words: Hysterocele, old woman, colpocele, rectal prolapse
Le prolapsus génito-urinaire est une pathologie fréquente chez les femmes de plus de 50 ans et correspond à une protrusion d'un ou plusieurs organes pelviens dans la cavité vaginale. Cette descente d´organes est causée par le relâchement des éléments musculo-ligamentaires du bassin appelé plancher pelvien. Les principaux facteurs favorisants sont l´âge, la ménopause, les accouchements difficiles, l´activité physique intensive, les facteurs héréditaires. La protrusion se fait dans une hernie de la paroi vaginale (colpocèle). Il existe trois étages au niveau du vagin : antérieur, moyen et postérieur. Les colpocèles de l´étage moyen peuvent intéresser l´utérus (hystérocèle). L´hystérocèle correspond à la descente de l´utérus dans la cavité vaginale pouvant à l'extrême être extériorisée hors de l'orifice vulvaire. Les prolapsus génitaux sont à différencier des prolapsus rectaux qui, eux, s´extériorisent par l´anus. Nous rapportons le cas d'une patiente de 65 ans, sans antécédents pathologiques particuliers, avec sept accouchements par voie basse qui consulte pour dysurie, pollakiurie, infections urinaires à répétition avec sensation de pesanteur pelvienne et de boule intravaginale s'extériorisant en permanence. L'examen clinique a mis en évidence une énorme hystérocèle stade IV selon la classification de Baden Walker, avec un col utérin complètement extériorisé associé à un prolapsus rectal sans incontinence urinaire, ni cystocèle. Un colpocléisis associé à un cerclage anal était réalisé. Les suites opératoires étaient simples. Après un recul de 6 mois les résultats fonctionnels étaient jugés bons avec une disparition des troubles urinaires et il n'existait pas de récidive.
Figure 1 : A) hystérocèle stade IV avec éversion complète de l'utérus à travers la vulve associée à un prolapsus rectal ; B) image en post-opératoire du colpocléisis plus cerclage anal
Search
Volume 12 (May - Aug 2023)
This article authors
On Pubmed
On Google Scholar
Citation [Download]
Navigate this article
Similar articles in
Key words
Article metrics
---
Recently from the PAMJ-CM