Case report | Volume 6, Article 31, 26 Jul 2021 |
10.11604/pamj-cm.2021.6.31.30533
Challenging case of anal carcinoma with baseline chronic neutropenia - the importance of a multi-disciplinary team effort in the prevailing COVID-19 pandemic: a case report
Nandan Maruti Shanbhag, Hanoi Medina, Joyce Condace Philip, Sharon Cordner, Albert Duncan, Vonetta George, Raghunandan Gangappa, Preston Goodwin, Sekeena Goodwin, Lestor Simon, Hari Agrawal, Mohammed Syed Ali, Rona Hodge
Corresponding author: Nandan Shanbhag, Department of Oncology, the Sir Lester Bird Mount St John's Medical Centre, Antigua-et-Barbuda

Received: 26 Jun 2021 - Accepted: 25 Jul 2021 - Published: 26 Jul 2021
Domain: Oncology
Keywords: Febrile neutropenia, anal carcinoma, COVID-19, multidisciplinary team, case report
©Nandan Maruti Shanbhag et al. PAMJ - Clinical Medicine (ISSN: 2707-2797). This is an Open Access article distributed under the terms of the Creative Commons Attribution International 4.0 License (https://creativecommons.org/licenses/by/4.0/), which permits unrestricted use, distribution, and reproduction in any medium, provided the original work is properly cited.
Cite this article: Nandan Maruti Shanbhag et al. Challenging case of anal carcinoma with baseline chronic neutropenia - the importance of a multi-disciplinary team effort in the prevailing COVID-19 pandemic: a case report. PAMJ - Clinical Medicine. 2021;6:31. [doi: 10.11604/pamj-cm.2021.6.31.30533]
Available online at: https://www.clinical-medicine.panafrican-med-journal.com/content/article/6/31/full
Case report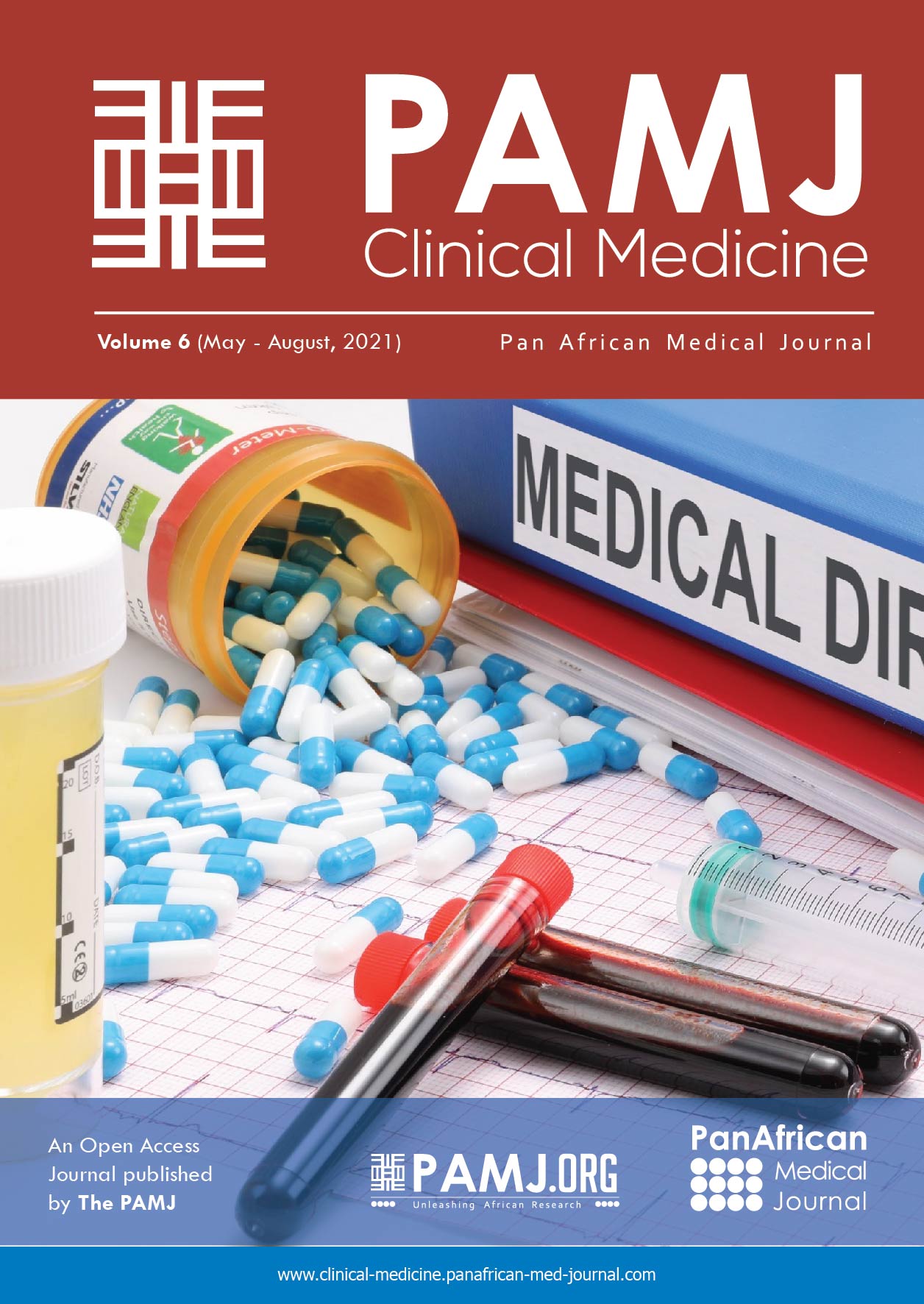 Challenging case of anal carcinoma with baseline chronic neutropenia - the importance of a multi-disciplinary team effort in the prevailing COVID-19 pandemic: a case report
Challenging case of anal carcinoma with baseline chronic neutropenia - the importance of a multi-disciplinary team effort in the prevailing COVID-19 pandemic: a case report

Nandan Maruti Shanbhag1,&, Hanoi Medina1, Joyce Condace Philip1, Sharon Cordner1, Albert Duncan1, Vonetta George1, Raghunandan Gangappa1, Preston Goodwin1, Sekeena Goodwin1, Lestor Simon1,

Hari Agrawal2, Mohammed Syed Ali2, Rona Hodge3
1Department of Oncology, the Sir Lester Bird Mount St John's Medical Centre, Antigua-et-Barbuda, 2The Cancer Centre Eastern Caribbean, Antigua-et-Barbuda, 3Hughes Medical Centre, The Valley, Anguilla
&Corresponding author
Nandan Shanbhag, Department of Oncology, the Sir Lester Bird Mount St John´s Medical Centre, Antigua-et-Barbuda
The year 2020 has been a challenging time with the prevailing COVID-19 pandemic. The pandemic has forced the cancer departments globally to re-think and rearrange the ways cancers are treated. There were delays in surgery, radiation and chemotherapy. This case demonstrates the importance of multi-disciplinary teamwork and how a scientifically sound strategy and meticulous treatment planning can overcome the extra challenges in Oncology during the COVID-19 pandemic.
The year 2020 posed a lot of challenge to healthcare workers globally who had not anticipated the pandemic to cause widespread disruption. Because of this, several cancer departments worldwide were faced with managing cases differently and had to implement several changes in the treatment protocol [1]. One of the biggest learnings in the pandemic was the importance of a multi-disciplinary discussion and approach towards cancer care [2]. We believe this challenging case provides robust evidence that with meticulous multi-disciplinary effort and planning, complex issues in oncology can be managed safely [3].
Patient information: we report the case of a female patient, 36 years old, with a history of persistent neutropenia for one year. The patient had been consulted several times for the complaints of bleeding per rectum and was initially diagnosed with hemorrhoids.
Clinical findings: on examination, a firm to hard nodular mass was palpable in the anal canal posteriorly, extending circumferentially with the anterior wall. It was possible to get above the swelling and did not bleed to touch.
Diagnostic assessment: computed tomography (CT) of the chest, abdomen and pelvis with contrast revealed bilateral axillary lymphadenopathy with at least one node measuring more than 1cm and multiple bilateral inguinal lymph nodes. A solitary right middle lobe lung nodule 0.6cm in dimension was noted. The pelvis was reported with bilateral ovarian cysts and an increased soft tissue thickening involving the anus (Figure 1). Since the symptoms did not subside, a biopsy was planned of the mass in the anal region, which confirmed a poorly differentiated squamous cell carcinoma. The patient was staged as a pT3N1aM0. The patient was referred to the Tertiary Hospital in Antigua & Barbuda from a private cancer clinic after developing neutropenia post-initiation of chemotherapy and radiation. She had received six days of external beam radiation with capecitabine and completed one cycle of mitomycin C and Cisplatin therapy. She was referred for a hematologic review and a biopsy of the axillary node.
Biopsy of the axillary node was reported as having CD20 and CD23 positive resting follicles with a varied proliferative rate (Ki-67- 5-80%). It did not rule out an atypical lympho-proliferative disorder/hodgkin lymphoma, but no conclusive metastatic carcinoma was identified. The bone marrow aspirate showed no evidence of malignancy, and the bone marrow biopsy showed a hypo-cellular marrow with trilineage hematopoiesis with no evidence of metastatic carcinoma. A rheumatology opinion was sought, and an auto-immune panel was recommended. She was positive for ANA with the values for SSA antibody, RNP antibody, phosphatidylser IgG and chromatin Ab returning as higher than normal with all other values within the normal limits (Table 1). The Tumor Marker Carcino-Embryonic Antigen (CEA) was higher than normal at 16.5 ng/mL. The case was discussed at the multi-disciplinary tumor board, and it was decided to re-initiate the chemo-radiotherapy after treating the patient with Anti-CD20 agent for the first few cycles. The absolute neutrophil count target was set at 1000 cells/mm and as long the neutrophil count remained above this value it was decided to continue the treatment.
Therapeutic intervention: the patient was initiated on steroid and methotrexate therapy for two weeks, but did not respond to therapy. She received two doses of rituximab 375mg/m2 following which her white cell count and neutrophils remained elevated above the target value and chemo-radiotherapy was initiated. The patient also received growth factor support on weekends during the course of chemo-radiotherapy. The patient received the second cycle of chemotherapy with cisplatin alone and completed her treatment with no residual neutropenia. External beam radiotherapy was planned to keep the dose to the pelvic bone marrow to the minimum, with treatment delivered as volumetric arc therapy (VMAT). Capecitabine 825mg/m2 was prescribed on days of radiation for the entire course of radiation, with no doses over the weekends and non-radiation days.
Follow up and outcome: examination of the per rectum revealed a partial response to treatment and as it is usually in cases of anal carcinomas, delayed responses have been demonstrated with some up to even six months. The same was conveyed to the patient and in case of a residual disease even after 3 months, surgical opinion would be ideal. The patient was advised to seek a second opinion for the long standing chronic neutropenia at a higher heamatology centre. The patient returned to her home country and is under the supervision of her primary physician.
Squamous cell carcinomas are the most common type of cancers arising in the anal region. Most guidelines suggest initial concurrent chemo-radiotherapy rather than surgery because of the possibility of a cure with organ preservation and more importantly, intact sphincter function. The standard chemotherapy regimen used are a combination of Mitomycin and Fluorouracil during radiotherapy. The regimen at many cancer centres worldwide is 5FU 1000 mg/m2 given on days 1-4 and 29-32 with mitomycin on days 1 and 29 concurrent with radiotherapy [4-6]. While this is the most preferred regimen, it is all toxic in terms of causing neutropenia among other adverse effects. This can be profound and prolonged, which can interrupt treatment and hence compromise the outcome. The neutropenia if unrecognized may result in hospitalization for an infection and if left untreated febrile neutropenia can be fatal [7]. More often than not, the treatment for the patient´s primary malignant condition is disrupted if the patient develops febrile neutropenia. Neutropenia is defined as the Absolute Neutrophil count less than 1500/microL and severe is less than 500/microL. When a single recorded temperature of more than 101*F (38.3*C) or a temperature of ≥38.0°C (100.4°F) sustained over a one-hour period co-exists with neutropenia, it is termed as Febrile Neutropenia [8]. The patient needs hospitalization with adequate antibiotics and granulocyte colony stimulating growth factor support. It is imperative that patients have the normal neutrophil count and are afebrile before the initiation of the chemotherapy and radiotherapy to avoid febrile neutropenia and the complications arising from the condition. In patients where the neutropenia is not severe and chronic, utmost caution is ensured while initiating therapy and done only in a multi-disciplinary team setting. The baseline neutrophil count is one of the important predictors for development of febrile neutropenia during therapy [9]. The guidelines are sparse on initiating treatment in patients with chronic neutropenia without symptoms and in COVID-19 pandemic [10].
Febrile neutropenia can lead to fatal infection, and the risk of developing febrile neutropenia depends on the baseline neutrophils count prior to initiating cancer therapy. The COVID-19 pandemic has made cancer care difficult around the globe and when there are cancer patients with additional challenges, a multi-disciplinary team is essential to address the challenges. This case history demonstrates that it is possible to provide reliable cancer care to cancer patients with additional challenges even in the COVID-19 pandemic with the co-ordinated effort of a multi-disciplinary team. We encourage, through this case study, collaborative efforts to maximize benefits to the cancer patients with additional challenges.
The authors declare no competing interests.
Nandan M Shanbhag - treating oncologist and wrote the whole manuscript. Joyce Condace Philip - oncology nurse helped with gathering the required cased document and provided edits. Hanoi Medina - treating heamatologist. Sharon Cordner - treating rheumatologist. Albert Duncan, Vonetta George, Rona Hodge - treating surgeons provided surgical examination explanations. Raghunandan Gangappa, Preston Goodwin - radiologists and helped with arranging Imaging study. Lestor Simon, Sekeena Goodwin - pathologists helped with the pathology description. Hari Agrawal and Mohammed Syed Ali - treating Radiation Therapy team. All the authors have read and agreed to the final manuscript.
We deeply appreciate the entire Oncology team at The Sir Lester Bird Mount St John´s Medical Centre to have helped with the treatment and making available the records for the publication.
Table 1: complete blood work-up to rule out auto-immune cause of the chronic persistent neutropenia; includes thyroid function test and the tumor marker; marked in BOLD = abnormal values

Figure 1: computerized tomography scan showing circumferential soft tissue thickening measuring about 1.38 cm max diameter in anal region











Search
Volume 12 (May - Aug 2023)
This article authors
On Pubmed
On Google Scholar
Citation [Download]
Navigate this article
Similar articles in
Key words
Article metrics
---
Recently from the PAMJ-CM